Day 1 Arrival / Delhi
Late night arrival. Traditional welcome with garlands and transfer to hotel. Overnight at delhi hotel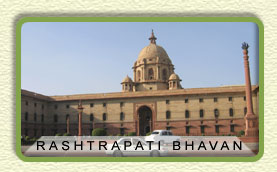 Day 2 Delhi
This morning we proceed for a guided tour of New Delhi.
In the morning we will take you to a sightseeing tour of Old Delhi. You will enjoy the grandeur of the Red Fort, the Jama Masjid, Chandni Chowk and the greenery around Rajghat. In the afternoon you are back in your hotel for lunch. Soon you will be out for a city tour of New Delhi. Here you will have a delightful time at the India Gate, Rashtrapati Bhavan, Akshardham Temple and the Laxmani Narayan Temple
Welcome Dinner :
This evening we visit the local home, for an Indian home experience. The evening is designed to give you a 'feel' and insight into Indian family life as well as experience typical Indian hospitality and home made Indian food.
Overnight at hotel.
Day 3: Delhi / Agra
After breakfast, drive to Agra. Upon arrival , check in to Hotel Trident
In the afternoon, we tour the massive Agra Fort. Its elegant buildings reflect an interesting synthesis of Hindu and Central Asian architectural styles. Built by Emperor Akbar, it has a maze of courtyards and mosques, and its private chambers echo the Mughal Empire.
Agra is the city of the Taj Mahal, perhaps the most photographed monument in the world. Yet, no picture can substitute for actually seeing the Taj Mahal. The unparalleled beauty of it surpasses all expectations, especially when viewed at sunset! Inspect the perfect symmetry of its construction. The inlay work of semi precious stones into marble in pietra dura style is remarkable.
Accommodations at hotel.
Day 4: Agra / Fatehpur Sikri / Jaipur
Following breakfast, we drive to Jaipur stopping at Fatehpur Sikri (ghost capital) for a tour of these magnificent and world heritage buildings, which are still in a state of perfect reservation. The city is divided into religious and secular sections. The profusion of sculpture is breathtaking. Also, the white marble mosque in the secular section is incredible. It is a very sacred mosque and pilgrims from far and near arrive here to pay their respects. Continue riding to Jaipur.
In a land steeped with heritage, picturesque with exquisite architecture, in a state vibrant with heroic memories and romance, lies the Dream City of Jaipur. The people are dynamic, martial and, need we say it, colourful. Here every walk through the by lanes is a walk through history. Indeed, Jaipur could be compared to a vast open-air museum. Pink turbans jostle with saffron 'odhinis' (ladies scarves). Camel's buggies and elephants are as commonly found as motor cars and buses.
Upon arrival, check in to hotel.
Afternoon is at leisure for walks through Jaipur's shady animated streets with your guide - or for independent discovery. The city is best explored on foot and only the inquisitive visitor willing to go into the rastaas (streets) and galis (lanes) will feel the spirit of the city. Jaipur's colorful bazaars tantalize the eye with enameled blue pottery, exquisite gem-studded jewelry, engraved brass work, traditional block-printed fabrics and brightly patterned dhurrie rugs together with traditional crafts and miniature painting.
Overnight at hotel.
Day 5: Jaipur
This morning we visit Amber Fort, the former capital of the royal Jaipurs. Few fail to be moved by the dramatic Rajput grandeur of this hill top fortress-palace 11 km north of Jaipur. We will ride up to this hilltop palace on a caparisoned, painted elephant, passing through the ancient main gate where Maharajas of Jaipur have entered for four hundred years.
Amber was the ancient capital of Jaipur state. Construction of the fort began in 1592 by Raja Man Singh, the Rajput commander of Akbar's army and is a superb example of Rajput architecture. Afternoon, city tour of Jaipur. Visit the City Palace which has museum having an extensive collection of art, carpets, enamel ware and weapons; Jantar Mantar the observatoyr built my Maharaja Jai Singh in 1728 and the façade of Hawa Mahal ( Palace of Winds ).
Evening transfer to the train station to board Palace on Wheels. Times have changed and winds have shifted, but the Palace On Wheels cruises along in its unique style, the kind only the Maharajas of Yesteryears could have perpetuated and enjoyed. Today of course, each traveler on board is treated like royalty in his or her own right. The exquisite and exclusive Palace on Wheels has luxurious cabins, wall-to-wall carpeting, a well stocked bar, two dining cars, and a very personalized service, in fact everything that could comprise of heaven on earth for the next four days.
Overnight at hotel.
Day 6: Jaipur / Pushkar
Following breakfast drive to Pushkar, an amazing spectacle of colour.
Picture this - countless camels ambling their way across the golden sands of Rajasthan, horses marching towards the site of the fair with their masters and an assemblage of numerous cows and sheeps, that's Pushkar Fair for you. But wait, there is a lot other that make this fair a major event all over Rajasthan. The large gaudy turbans of the native males, women wrapped in exquisite jewelry from head to toe and children dressed in colorful tradition attire enjoying every moment is a sight that you would remember for a long time to come.
Overnight Swiss Tented Accommodation
Day 7: Pushkar
The first few days of the fair are devoted to the trade of camels, sheep, horses and cows. Their owners, dressed in colorful attires use all their persuasive skills to sell them at most competitive prices. The festival offers a perfect opportunity to the local people specially the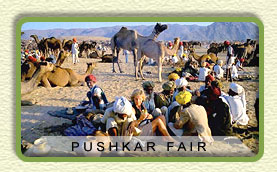 women folk to purchase the most exquisite jewelry items. The garment stall selling various garments with attractive tie n die work, patchwork and tattoo shops add to the colors of the festivals.
As the tempo of business goes down, its time for the merriment. The fair observes various breathtakingly competitive events including camel races, musical chairs and beauty contest. There are jugglers, fire dancers and a variety of swings that make this festival an absolutely awesome event.
Overnight Swiss Tented Accommodation.
Day 8: Pushkar / Ranakpur / Udaipur
Following breakfast we drive to Udaipur .
This morning, following breakfast, we ride out to Udaipur. Our first stop would be at Ranakpur. This is a site of some exquisitely carved white marble Jain temples .The profusion of such detailed and intricate sculpture depicting various folk tales and gods is mind boggling. We have a guided tour of the temple and following which, we continue driving to Udaipur. Royal capital of a devine dynasty. Languid Lake City, strewn with marble palaces, hibiscus - massed gardens, fountain pavilions, and cobbled medieval gardens.
Welcome to Udaipur, the famed "City of sunrise ". Founded in 1567 by Maharana Udai Singh, from the lineage of the legendary Sisodias of Mewar - the decedents of the sun God. A city where the sun truly never set, where tradition and a strict code of heroism were happily united with a love of fine living. A city that has come to be an oasis of romance in the warrior state of Rajasthan.
Upon arrival , check in to hotel.
Day 9: Udaipur
Afternoon we proceed on a tour of this "Lake City". Udaipur is a cool oasis in the dry heart of Rajasthan. It is probably the most romantic city in a state where every city has some romantic or exotic tale to tell.. The huge city palace towering over the Lake Pichola is the largest palace complex in Rajasthan. Though it is a conglomeration of buildings built by successive rulers, it manages to retain a surprising uniformity of design and affords very fine view of the lake and the city from the upper terraces. The Jagadish temple next to the city palace enshrines a black stone image of Lord Vishnu and his vehicle- a mighty bird called garuda - in a brass image. The temple is a very fine example of Indo-Aryan Art.
Overnight at hotel.
Day 10: Udaipur / New Delhi
A leisurely breakfast and transfer to the airport for flight to Delhi. Meeting and assistance upon arrival and transfer to Hotel.
Overnight at hotel
Day 11: Delhi / Departure
Early morning transfer to the International Airport for your flight back home