Day 01 Abroad - Delhi
Arrive: Delhi. Upon arrival in Delhi, the guest will be met by our representative and transferred to yout pre reserved hotel. Overnight at delhi hotel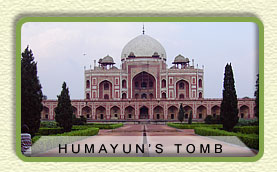 Day 02 Delhi Cultural Trip
This morning you will be taken to visit Old Delhi - Former centre of Moghul Power, Old Delhi offers ancient monuments, narrow streets and bustling bazaars. Drive past the Red Fort, built in 1648 and board the 'cycle rickshaw ride' for a unique experience from the Red Fort, through "Chandni Chowk" or Silver Street, experiencing the sights and sounds of this very busy avenue heading west from the Fort. Later visit the Jama Masjid, the greatest mosque in India and completed in 1658 by Shah Jahan who also built the Taj Mahal, and the Raj Ghat, the simple memorial to Mahatma Gandhi.
Afternoon visit New Delhi - drive past the stately government buildings of the British Era designed by Lutyens, including the India Gate & the Presidential Palace, Akshardham Temple. Continue onto the beautiful Humayuns tomb of the Mughal era & predecessor of the world famous Taj Mahal. End the tour at the towering minaret of Qutub Minar. Overnight stay will be at hotel.
Day 03 Delhi - Agra Taj Mahal Trip
After an early breakfast in hotel. Morning drive to Agra (203 kms). Upon arrival in Agra - check in to the your pre reserved hotel. Afternoon take a holiday trip to Red Fort( Also famous as Agra Fort ) and world famous Taj Mahal.
Red Fort -
lies on the bend of the river Yamuna, almost in the heart of the town. It was built by Akbar as his citadel over the years 1563-73 in the finest architectural style. It has imposing gates and walls of red sandstone and a moat.
Taj Mahal Holidays -
This most famous Moghul monument was constructed by Emperor Shah Jahan in memory of his wife Mumtaz Mahal "the lady of the Taj". It has been described as the most extravagant monument ever built for love, for the emperor was heartbroken when Mumtaz died after 17 years of marriage, during the birth of her 14th child.The central structure has four small domes surrounding the huge, central dome. Above the tombs of Mumtaz Mahal and Shah Jahan are false tombs, a common practice in Indian mausoleums. (Taj Mahal is closed on Friday). Overnight at Camp.
Day 04 Agra Tajmahal vacations - Jaipur
Morning drive to Jaipur (221 kms), en route visit Fatehpur Sikri Fatehpur Sikri the deserted, red sandstone city that was built by Emperor Akbar as his capital and palace in the 16th century. Also visit the Bulund Darwaza the largest gateway in the world. Thereafter continue drive to Jaipur. Upon arrival in Jaipur - check into the hotel. Overnight at stay will be at jaipur hotel.
Day 05 Jaipur Heritage Tours
This morning after breakfast, you will be proceed to Amer Fort on Elephant ride. In the afternoon, visit the "pink city" so-called because a great deal of the older part is built of pink-colored stone. Visit the Hawa Mahal (Wind Palace), a high and intricately carved wall behind which women of the court were sequestered while watching processions. Also see the Observatory ( Also known as Jantar Mantar ) and the City Palace, which houses an excellent collection of Rajasthani costumes, miniatures and an armory of Rajput weapons. Enjoy lunch at Local Rajasthani Restaurant and see the largest turban museum in Rajasthan. Enjoy dinner in the hotel. Overnight at Hotel.
Day 06 Jaipur - Udaipur
After anearly breakfast in hotel take a flight to Udaipur upon arrival to udaipur check-in at your pre booked hotel. Overnight stay will be at Udaipur.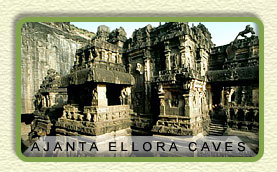 Day 07 Udaipur City Sightseeing Tours
Afteran early breakfast you will be taken to visit of City Palace, Saheliyon ki Bari, Jagdish Temple, Ahar, Bhartiya Lok Kala Museum, Sajjan Garh, Pichola Lake, Shilpgram, Eklingji Temple. Stay overnight in Udaipur. Travel Activity Shopping Udaipur has countless small shops and many interesting local crafts, particularly paintings of the Rajputs - Moghuls style. Overnight stay will be at Udaipur.
Day 08 Udaipur - Aurangabad Caves Trip
After breakfast free for leisure. Drop at Airport to board connecting flight to Aurangabad via Mumbai. Evening arrival at Aurangabad. Check in hotel. Then proceed for visit to Daulatabad Fort. Overnight stay at Aurangabad.
Day 09 Aurangabad Ancient Caves Holiday Trip
After breakfast ful to excursion tour to Ajanta and Ellora Caves. Overnight stay at Aurangabad.
Ajanta Caves Holiday Tours : -
Nestling in an inner fold of the Sahyardi hills, 100 km from Aurangabad in the shape of a mammoth horse- shoe, are the 30 rock-hewn caves of Ajanta. The Caves date from the 2nd century BC. Discovered in 1819 by a group of British army officers, these startling achievements took around 600 years to create. Carved with little more than a hammer and chisel, Ajanta, once the retreat of Buddhist monastic orders features several 'chaityas' (chapels) and 'viharas' (monasteries). Return to Aurangabad and overnight will be at Aurangabad.
Ellora Caves : -
Impressive in their own right is the rock-hewn temples and monasteries of Ellora that lie just 30 km away from Aurangabad city. In all, there are 34 cave temples, 12 Mahayana Buddhist caves (550-750 AD), 17 Hindu caves (600-875 AD) and 5 caves of the Jain faith (800-1000 AD) 22 more caves, dedicated to Lord Shiva, were recently discovered. Kailas Temple (cave16), the central attraction at Ellora, is the most remarkable.
Day 10 Aurangabad - Mumbai
After breakast drop at Airport to board flight to Mumbai. On Arrival meet and assist and transfer to hotel. After leisure proceed for tour of Mumbai covering Gateway of India, Hazi Ali Mosque, Elephant Caves. Overnight stay at Mumbai.
Day 11 Mumbai - Schedule Destinations
Afterbreakfast some more exploration of Mumbai adding last minute touch of tour of Mumbai. We ensure timely transfer to International Airport to board flight for back home with sweet memories of North India Golden Triangle Ajanta Ellora Caves Holiday Trip.