DAY 01 : Arrive Delhi
On arrival meet and assist at the airport and transfer in private A/C car to your pre booked hotel. Overnight stay will be at the hotel.
DAY 02 : Delhi - Jaipur
After breakfast, half day city tour of Old Delhi. Visit Jama Masjid, the largest mosque in India. Built by Shah Jahan, the construction was started in 1844 and was not completed until 1658; Red Fort, which was also built by Shah Jehan. This massive fort was built from 1638 to 1648; Chandni Chowk and Rajghat - the cremation site of Mahatma Gandhi. sightseeing of the old and modern capital of India. Afternoon, leave for Jaipur. Arrive Jaipur and check in at prebooked hotel.
DAY 03 : Jaipur Cultural Trip
After breakfast, excursion to Amber Fort. Elephant ride from the foothills of the Aravallis to the fort entrance. Amber Fort : At a distance of 11 kms from Jaipur, Amber was the ancient capital of Jaipur state. Construction of the fort began in 1592 by Raja Man Singh, the Rajput commander of Akbar's army and is a superb example of Rajput architecture. Afternoon, city tour of Jaipur. Visit the City Palace which has museum having an extensive collection of art, carpets, enamel ware and weapons; Jantar Mantar - the observatoyr built my Maharaja Jai Singh in 1728 and the façade of Hawa Mahal.
DAY 04 : Jaipur - Fatehpur Sikri - Agra
After breakfast, leave for Agra. Enroute visit the abandoned Mughal city of Fatehpur Sikri - built by Emperor Akbar in 1569, was the old capital of the Moghuls, which was abandoned after 15 years due to scarcity of water. See the graceful buildings including the Jama Masjid, Tomb of Salim Chisti, Panch Mahal & other Palaces which are still preserved in its original glory. Continue drive to Agra. Arrive Agra in the evening and checkin at prebooked hotel. Overnight at the hotel.
DAY 05 : Agra Tourism
After breakfast, city tour of Agra. Visit Red fort, which was built by Emperor Akbar in 1565, and additions were made up until the time of his grandson, Shah Jahan. It contains the hall of public and private audiences amongst many other beautiful structues; Itmad-ud-daulah, which was contructed by Nur Jahan between 1622 and 1628 and is very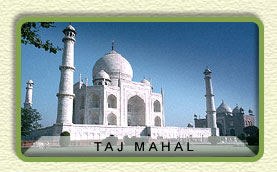 similar to the tomb she constructed for her husband, Jehangir, near Lahore in Pakistan; the highlight of the day - The Taj Marishikesh indiahal, which was constructed by Shah Jahan in memory of his wife Mumtaz Mahal. Contruction of the Taj began in 1631 and was not completed until 1653. Afternoon, free for individual activities.
DAY 06 : Agra Taj Mahal - Delhi
After breakfast, leave for Delhi. Enroute visit Akbar Tomb in Sikandra .Arrive Delhi and check - in at your pre booked hotel. Day is free for lesisure or shopping activities in delhi.
DAY 07 : Delhi City Tours
After an early breakfast in hotel. Take Combined capital city tours of old and New Delhi. Delhi - The capital of India, Delhi has been centre of political turmoil since 13th century. The day includes a visit to the temple complex of Laxmi Narayan, the famous Chattarpur Temple and the Bahai Temple, also known as the Lotus Temple. Raj Ghat in Delhi, the cremation site of Mahatama Gandhi, Father Of India, is much like a sacred temple to every patriotic Indian heart too. Enjoy a bit of astrological predictions and findings in the evening at Old Delhi, after which you are free to do shopping and relax. Ride a cycle rickshaw through the crowded streets of the markets of Chandni Chowk Bazaar to Jama Masjid, the largest mosque in India in Old Delhi. In New Delhi, you can visit Dilli Haat, best place to look at Indian handicrafts and drive over the Rajpath, the site for Republic Day Parade of India to India Gate, a tribute to the martyrs who sacrificed their lives for their nation. You can see the President's House from outside and visit the 16th century Humayun's Tomb, Safdarjung's Tomb and Qutub Minar. Overnight stay at hotel.br>
DAY 08 : Delhi - Rishikesh
After breakfast, leave for Rishikesh. Enroute visit Haridwar. Arrive Rishkesh & check in at prebooked hotel
DAY 09 : Rishikesh - Delhi
After an early breakfast, visit Rishikesh - one of the most important holy cities of Hindus. Afternoon, leave for Delhi. Arrive Delhi and check in at pre booked hotel.
DAY 10 : Depart Delhi
Transfer to the airport to board flight back home / Scheduled destination.