Day 1: Delhi
On the first day of your tour itinerary, arrive at the international airport of Delhi. Here company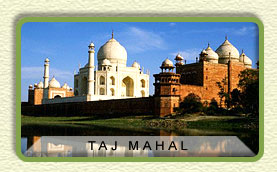 representative will receive you and will help you to check in the hotel. Relax and stay overnight at the hotel.
Day 2 : Delhi
After breakfast, full Day city tour of Old & New Delhi. Visit Jama Masjid, the largest mosque in India - Built by Shah Jahan, the construction was started in 1844 and was not completed until 1658 ; witness the Red Fort; Visit Humayun's Tomb - built in mid 16th century this is an early example of Mughal architecture ; Visit Qutab Minar, witness the India Gate, President House, Akshardham Temple. The city tour ends with a visit to Laxmi Narayan Temple (Birla Mandir).
Day 3: Delhi - Agra
Have your breakfast and leave for Agra, the cultural capital of Uttar Pradesh. It is located at the distance of about 200 kms from Delhi. Reach Agra and check in the hotel. Later in the day, leave the hotel to take a sightseeing tour of Agra. Take a tour to the grand Agra Fort. Agra has many remarkable palaces and monuments built by the Mughal emperors. You can also see the private and public audience halls and formal gardens. Come back to the hotel and stay overnight.
Day 4: Agra - Jaipur
Wake up early in the morning. Visit the Taj Mahal to see the breathtaking sight of the Taj Mahal under the rising sun. The early morning sunlight is perfect to take photographs of this beautiful monument erected in white marble. The Taj was built by the Mughal emperor Shah Jahan for his beloved queen Mumtaz Mahal. It is the best example of Islamic architecture in India and an eternal symbol of everlasting love.
Come back to the hotel and have your breakfast. Post breakfast, you will proceed to Jaipur. Enroute, stop at Fatehpur Sikri, an ancient city made by Mughal emperor Akbar but abandoned later with the race of time. There are many rich monuments in Fatehpur Sikri to see on your sightseeing tour, such as Jami Masjid, Panch Mahal, and Buland Darwaza.
On our way to Jaipur, you will take a safari to the Bharatpur Bird Sanctuary. It is a sanctuary famous for hosting a famous wildlife reserve for beautiful birds. Also famous s as Keoladeo Bird Sanctuary, it offers you the sight of thousands of birds chirruping and nesting in the trees of Bharatpur National Park. Reach Jaipur in the evening and check in your hotel to stay overnight.
Day 5: Jaipur
Have your breakfast and enjoy a whole daylong tour of Jaipur city. Jaipur is the capital of Rajasthan state and quite popular among the tourists from all over the world. It is famous as Pink City because most of the traditional houses here are painted with Pink paint. Excursion to Amber Fort. Elephant ride from the foothills of the Aravallis to the fort entrance. Amber Fort : At a distance of 11 kms from Jaipur, Amber was the ancient capital of Jaipur state. Construction of the fort began in 1592 by Raja Man Singh, the Rajput commander of Akbar's army and is a superb example of Rajput architecture. Afternoon, city tour of Jaipur. Visit the City Palace which has museum having an extensive collection of art, carpets, enamel ware and weapons; Jantar Mantar - the observatoyr built my Maharaja Jai Singh in 1728 and the façade of Hawa Mahal.
Day 6: Jaipur - Goa
Have your breakfast and proceed to the airport to take a flight for Mumbai and to Goa. Goa is a beautiful beach holiday destination located on the West Coast of India. It has beautiful beaches, and a perfect combination of sun, sand and sea. The sunny tropical weather, beach facilities, water sports and delicious Goan cuisine make Goa totally irresistible. Reach Goa and check in your hotel and relax. Later, you will enjoy the panoramic view of the beach in front of your hotel.
Day 7: Goa
Take a whole day tour of Goa to enjoy your holiday under bright sun, sky and glistening sand on the beaches of Goa. Today, you will visit some of the best beaches of Goa, such as the Anjuna Beach, Calangute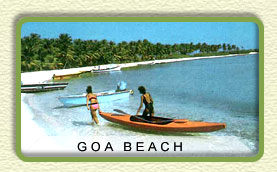 Beach, Dona Paula Beach and Baga Beach. Goa has many beautiful churches, monuments and attractive natural landscape. Enjoy exciting Goan activities of sunbathing, swimming, water sports and seafood. Enjoy the outstanding sunset on a beach in Goa, India. Return hotel and stay overnight.
Day 8: Goa
Visit Dona Paula beach that is a calm seaside paradise where you will spend a relaxed day. Enjoy the close by harbor and fishing village. By afternoon, you will take a tour of the colonial heritage monuments dating back to Portuguese period and churches of Goa. Come back to the hotel and stay overnight.
Day 9: Goa - Mumbai
Departure Get transferred to the airport and board a flight to Mumbai. In Mumbai, your tour representative will help you to get transferred to the international airport and board a flight to the next destination with golden memories of the Golden Triangle with Goa Tour.