4 days taj mahal tour normally start from the capital of india - delhi where most of the international flights land. Delhi itself is major tourist destinations for visitor. Visit to india without visit to wonder of world - The taj mahal in agra is incomplete. Taj mahal is prime attractions piont for every tourist.

Its architectural design is stunning and amazing. It took 22 years to complete and greatest gift to tourist world. If you have visited the Taj mahal your half visit to india is complete. When ever your plan a trip to north india the Taj mahal is must visit attraction of itinerary. It is recommended to visit 3 times ( morning at sunrise, evening at sunset and afternoon ) during a day.
Day 1 Arrive Delhi
Connect to your flight to New Delhi, India,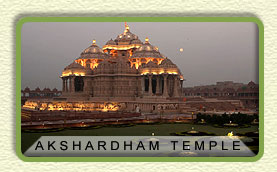 arriving late tonight to a traditional warm welcome. Transfer to hotel.
Day 2: Delhi
Delhi, the capital of India and third largest city, consists of two parts: Old Delhi and New Delhi. After breakfast, take a guided tour of New Delhi, and such sights as Humayun's Tomb (1586); Qutab Minar, 72-meters high and one of the most perfect towers in the Persian world; 1,500-year-old Iron Pillar. Tour the Embassy area, Government buildings, and Connaught Place, heart and main shopping district, Akshardham Temple. Cross the city into the walled gates of Old Delhi. Old Delhi draws one through congested roads and lanes, interesting mosques, monuments and old forts. Tour includes the Jamma Mosque (1650), and fabled Chandni Chowk (Moonlight Square), where the throngs of shoppers and vendors meet in the oldest area of Delhi. On to Red Fort, built between 1639 and 1648 by Shah Jehan, who also built the Taj Mahal. Visit Raj Ghat and nearby ghats where Mahatma Gandhi and his descendants were cremated. One of the highlights today is riding on a three-wheel cycle rickshaw that has a sofa seat in the back. The Rickshawalla (Rickshaw driver) sits on a small cushion in front. This is a remarkable way to explore colorful, crowded narrow winding streets and pavement shops selling wares of all description. This evening, enjoy a welcome Dinner in a Big Five family home for a taste of traditional Indian hospitality and traditional Indian food, and learn more about Indians and their country.

Day 3 Delhi - Agra
Early morning drive to Agra enroute visiting Fatehpur Sikri. Fatehpur Sikri is 40 kms from Agra and built by Emperor Akbar in 1569 and abandoned after 15 years due to scarcity of water. See the graceful buildings including the Jama Masjid, Tomb of Salim Chisti, Panch Mahal and other palaces.
Taj Mahal -
This most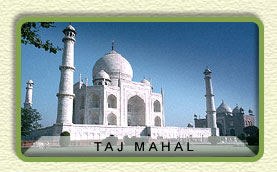 famous Moghul monument was constructed by Emperor Shah Jahan in memory of his wife Mumtaz Mahal who died after 17 years of marriage, during the birth of her 14th child. It has been described as the most extravagent monument ever built for love, (Taj Mahal is closed for foriegn visitors on Friday). In evening visit the Taj mahal during sunset to see the beautiful world heritage site with different image.
Stay at pristine Taj Mahal for sunset, to see this true Wonder of the world in gentle late afternoon light.
Day 4 Agra - Delhi
Morning during sunrise visit the world famous Taj Mahal built by the Moghul Emperor Shahjehan in 1630 for his Queen Mumtaz Mahal to enshrine her mortal remains. Later visit the Agra Fort containing the Pearl Mosque, the Halls of Public and Private Audience. Also visit the Tomb of Itmad-ud-Daullah built by Empress Noorjehan in memory of her father. Afternoon drive to Delhi. Transfer to international airport to

board flight for onward journey.