The beautiful monument built without steel, consists of 234 ornately carved pillars, 9 ornate domes, 20 quadrangled shikhars, a spectacular Gajendra Pith and 20,000 murtis and statues of India's great sadhus, devotees, acharyas and divine personalities.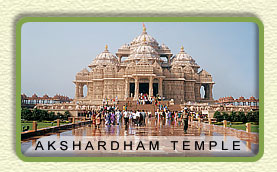 The temple complex in the national capital, to be inaugurated on Sunday, promises a unique glimpse of the Hindu religion and Indian culture. The Akshardham temple complex has been built on the banks of the serene River Yamuna and lies over a sprawling 100 acres of lush manicured lawns adorned with water fountains and carved pavilions. A whopping 2 billion was spent on the construction of this grand place of worship that took about 2 years to build.
The imposing 10 story high monument is made entirely of intricately carved, 6000 tons of pink sand-stone from Rajasthan, with no steel or cement used at all, ensuring that the monument will last for a thousand years. More than 12 million man hours of 900 skilled craftsmen have created this magnificent monument of 93 sculpted pillars, 40 windows carved from both sides, and a feast of forms and filigrees. Built inch to inch according to the ancient Sthaapatya shastras of India, no steel has been used. Support beams are 22 ft. single piece stone blocks. The pillars are poetry in stone, with beautiful expression from foot to crown.