The sprawling city palace of Jaipur sits right in the centre of the old city. Once home to the erstwhile royal family, the Chandra Mahal still retained by them. This complex is said to cover a large area almost a seventh of the entire city of Jaipur.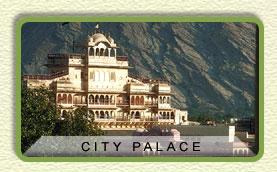 The complex includes amongst many other things the Mubark Mahal, the Diwan-I-Am or hall of public audiences, the Diwan-I-Khas or hall of private audiences and of course the beautiful seven-storied Chandra Mahal. This complex also house the City Palace Museum, where you can see an exquisite collection of textiles, old ceremonial dresses worn by the royal family at different occasions, a collection of knick-knacks, a rare collection of arms and a air of giant silver urns, the largest known silver objects in the world. Do not miss the beautiful and intricately carved Peacock Gate here – the most famous portal in Rajasthan.
Across a paved square lies the Diwan-e-Aam, or the "Hall of Public Audience". To the north-west is the stately and graceful seven storeyed Chandra Mahal, the residence of the ex-ruler. Each storey has a distinctive name and is a place of sheer beauty and luxury. Paintings, floral decorations, mirror walls and ceilings in the traditional style adorn the palace. The uppermost storey is called the Mukut Mahal. Opposite the chandra Mahal lies the Baldal Mahal. The Govind Devji temple stands inthe middle of the Chandra Mahal and Badal Mahal. A delightful system of fountains is placed in the middle of the paved path between the Chandra Mahal and the Badal Mahal. The palace has extensive and sprawling gardens.
At the heart of the complex is the seven - tiered Chandra Mahal where erstwhile royal family is still in residence, though only a small part of the apartments are occupied. However, it is only the buildings around Chandra Mahal that are open to the public, and these also form a part of the museum. Through Singh Pol (Lion Gate), visitors can approach the Diwan-i-Khas and Diwan-i-Am, where the maharaja's private and public courts would be held. The architecture seems to consist of a number of arched, pillared halls, while the courtyards with painted doorways are a prominent feature.