The Qutb Minar is a red sandstone tower, 72.5 m high. Its construction was started around 202 by Qutbu'd-Din Aibak, the first Muslim Sultan of Delhi. It has five storeys, and is the highest stone tower in India. Most remarkable in the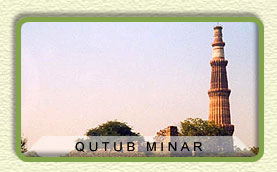 complex is the iron pillar, which was built during the Gupta Empire (a Hindu empire in India from 320 to about 335AD). It is made of such pure iron that it has never rusted, a standing testimony to the metallurgical skill of ancient Indians. The Quwwatu'l-Islam mosque is the earliest extant mosque in northern India.
In 1199 AD, Qutb-ud-Din Aibak laid the foundation of Qutab Minar for the use of Mu'azzin (crier) to give calls for prayer. However, only the first story was completed by Qutb-ud-din. The other stories were built by his successor and son-in-law, Shamsu'd-Din IItutmish (1211-36 AD).
The two circular stories in white marble were built by Ferozshah Tughlaq in 1368, replacing the original fourth storey. This towering structure in red sandstone has a diameter of 14.32m at the base and about 2.75m on the top with a height of 72.5m. All the storeys are surrounded by a projected balcony encircling the Minar and are supported by exquisite stalactite designs. The tapering tower has pointed and circular flutings on the first story round and star-shaped on the second and third stories.
The bands of calligraphic inscriptions are amazing in perfection. Numerous inscriptions in Arabic and Nagari characters in different places of the Minar reveal the history of Qutb. However, there are a number of monuments within the Qutab complex apart from the Qutab Minar.
Closely stands Delhi's most interesting pillar - The Iron Pillar. Built in the 4th century AD, the pillar bears an inscription, which declares that it was erected as a flagpole in honour of the Hindu Trinity, Vishnu, and in the memory of the Gupta King Chandragupta II (375-413).
The Iron Pillar is an excellent example of ancient India's advancement in metallurgy. The pillar's position at this place is a mystery. The pillar is made of 98 per cent wrought iron and has stood 1,600 years without rusting or decomposing.