In fact, even today a section of the Palace is still the private residence of the royal family of Jodhpur, currently headed by His Highness Maharaja Gaj Singh II. Converted to a hotel in 1972, the Palace was thrown open to the public at large as a residential hotel. Since 1978, the hotel has been associated with one of India's premier hotel chains-ITC Hotels. Today it the flagship of the welcome Heritage Chain, which runs charming heritage hotels spread across Rajasthan and its adjoining states.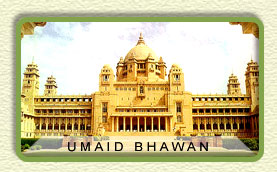 The Umaid Bhawan Palace at Jodhpur, India's last great Palace, was constructed between 1929 and 1944. The Palace was originally envisaged as a drought relief measure and the intention was to provide employment to over 3000 people afflicted by consecutive years of drought, Constructed in what can loosely be described as the Indo-Art-Deco style, this magnificent edifice with 347 rooms was the world's largest private residence when it opened its doors as a royal residence in 1944. Named after The Late His Highness Maharaja Umaid Singhji, the palace has been the residence of Maharaja Umaid Singhji and his successors.
The Central Dome soars 110 feet overhead, and provides spectacular centerpiece - a focal point for all the visitors to the property .The Trophy Bar, the Risala Restaurant ,the Marwar Hall, the Pillars restaurant and the Kebab Konner from the backbone of the hotels Food & Beverage activities, providing residents and guests a choice of dining options and cuisines.
The present owner is His Highness Gaj Singh, The Maharaja of Jodhpur. He has divided the Palace into three functional parts, one having a five-star hotel (in existence since 1972), one is the residence of the royal family and one has been opened to public where a small museum displays pictures, arms, swords, and other items relating to Jodhpur's royal heritage. The opening times of this museum are 10 AM to 4 PM, and it is closed on Sundays.
The palace grounds cover 26 acres (105,000 mē), out of which constructed area is 3.5 acres (14,000 mē) and 15 acres (61,000 mē) are devoted to lawns. This is the most expensive hotel at Jodhpur and this is one of the largest private houses in India.