Despite having a distinct touristy flavour these days, Pushkar is still a bewitching little town. It is right on the edge of the desert and is only 11 kms from Ajmer but separated from it by Nag Pahar, the Snake mountain. This traveller-friendly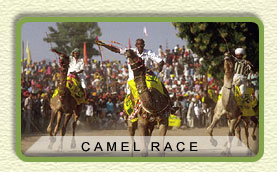 town clings to the side of the small Pushkar Lake with its many bathing ghats and temples. For Hindus, Pushkar is a very important pilgrimage centre and you'll see plenty of sadhus. Pushkar is perhaps best known for its Camel Fair which takes place here each October/November. This massive congregation of camels, cattle, livestock traders, pilgrims, tourists and film-makers is one of the planet's most incredible events. If you are anywhere within striking distance at the time, it's an event not to be missed. Being a holy place, alcohol, meat and even eggs are banned.
The 'Nag pahar' or the Snake Mountain forms a natural boundary between Ajmer and Pushkar. Surrounded by hills on three sides, pushkar abounds in temples. Of these the most famous is the only Brahma temple in the world. Then there is the holy lake, which has 52 ghats and pilgrim taking a ritual dip in the lake is a common sight specially during the festival. A city of Pilgrimage from time immemorial with over 500 temples and ghats, Pushkar begets a legacy of timeless architectural heritage. Pushkar radiates an ambience of peace and spirituality that casts a lure to visit again and again.
Pushkar FairIn 2019 Pushkar Camel Fair will be celebrated between 4th November - 12th NovemberIn 2020 Pushkar Camel Fair will be celebrated between 22nd - 30th November
One of the most popular and colorful fairs of the Thar desert is the Pushkar fair, which begins on Kartik Shukla Ekadashi & goes on for five days till Kartik Purnima. The time of the fair coincides with the bright half of the moon during the months of October-November.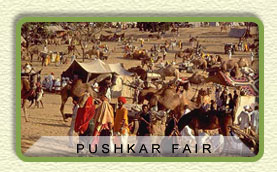 The lake at Pushkar is one of the most sacred in India.
These five days are a period of relaxation and merry-making for the villagers, despite being the busiest for them, as this is one of the largest cattle fairs in the country. Animals, mainly camels, are brought from miles around. Trading is brisk as several thousand heads of cattle exchange hands. All the camels are cleaned, washed, adorned, some are interestingly shorn to form patterns, and special stalls are set up selling finery and jewelry for the camels. Camels at the Pushkar fair are decorated with great care. They wear jewelry of silver and beads. There are silver bells and bangles around their ankles that jingle-jangle when they walk. An interesting ritual is the piercing of a camel's nose.
How to reach
Air
Jaipur, the nearest airport is 138 kms. (86 miles).
Rail
Ajmer is connected to Delhi, Agra, Jaipur, Ahmedabad, Udaipur, Abu Road and Jodhpur by regular trains. Two of the best trains of the Indian Railways, Pink City Express and Shatabdi Express connect Ajmer to Delhi and Jaipur.