The 15 Days long tour takes you to the world famous and most erotic
temples of Khajuraho
and famous
tiger reserves of Central India
rich in varied wildlife with out compare. Kanha national park is often called 'tiger land' and Bandhavgarh wildlife park is known as "white tiger" country.
Agra taj mahal
with
golden triangle circuit of north india
( delhi agra jaipur ) +
north india classical
destinations
khajuraho and varanasi
will enhances the taste of this wonderful trip.
Day 1 : Arrival / Delhi
Late night arrival. Traditional Welcome garlands. Later, transfer to the hotel .
Overnight: Hotel Taj Palace
Day 2 : Delhi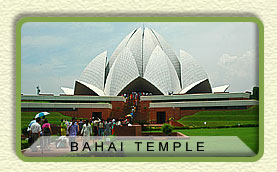 Following breakfast, we proceed on a guided tour of New Delhi, Visiting such sights as Bahai Temple , Humayun's Tomb (1586) , the Qutab Minar 72 meters high and one of the most perfect towers in the Persian world. The Iron Pillar which has survived the vagaries of weather for over 1500 years. Continue with a drive through Embassy area, the Government buildings (1921-1930) and Connaught Place, the heart and main shopping district of the capital. We cross the city and into the walled gates of the Old Delhi. The capital of Muslim India between the 17th and 19th centuries, Old Delhi seems somewhat anachronistic as compared to New Delhi. It draws one through congested roads and lanes, interesting mosques, monuments and forts relating to its chequered history. Our tour includes visits to the Jamma Mosque (1650) and drive through the fabled area of Chandni Chowk (aptly translates to Moonlight Square) where the throngs of shoppers and vendors meet in the oldest area of Delhi, on to the Red Fort (1639-1648 built by Shah Jehan the builder of the Taj Mahal in Agra) to view the inlaid and carved Royal Chambers, on to Raj Ghat and nearby ghats where the founder of the nation, Mahatma Gandhi and thereafter Indira Gandhi and Rajiv Gandhi were cremated. The highlight of this tour would be a ride on cycle rickshaws. Now these are 3-wheel cycles with a sofa seat at the back. The Rickshawalla (Rickshaw driver) sits on a small cushion in the front and two passengers on the sofa seat behind. This is a remarkable way to explore and picture the hustle and bustle as well as the colour of the narrow winding streets bursting with people and pavement shops selling wares of all description - including a laughing set of dentures. The ride would be accompanied by peals of laughter both from the passengers as well as the onlookers. Home Visit & A Welcome Dinner : This evening we visit and Indian family for an Indian home experience. The evening is designed to give you a 'feel' and insight into Indian family life as well as experience typical Indian hospitality and home made Indian food.
Overnight: Hotel Taj Palace ( B , D )Day 3 : Delhi / Jaipur
Following breakfast this morning drive to Jaipur . Upon arrival, check into Hotel . Afternoon is at leisure for walks in Jaipur's shady animated streets – or for independent discovery. The city is best explored on foot and only the inquisitive visitor willing to go into the rastaas (streets) and galis (lanes) will feel the spirit of the city. Jaipur's colorful bazaars tantalize the eye with enameled blue pottery, exquisite gem-studded jewelry, engraved brass work, traditional block-printed fabrics and brightly patterned dhurrie rugs together with traditional crafts and miniature painting.
Overnight Hotel Jai Mahal Palace ( B )Day 4 : Jaipur
This morning we visit Amber Fort, the former capital of the royal Jaipurs. Few fail to be moved by the dramatic Rajput grandeur of this hilltop fortress-palace 11 km north of Jaipur. Set on the dry wrinkled Aravali Hills, and surrounded by fortified battlements, the palace straddles two sepia-hued tundra hills overlooking Maota Lake, and its sprawling crenellated walls lattice the surrounding hills. We will ride up to this hilltop palace on a caparisoned, painted elephant, passing through the ancient main gate where Maharajas of Jaipur have entered for four hundred years. Our guide will elaborate on the history of this architectural masterpiece with its mirror-studded alcoves, dazzling mosaics and water-cooled swings that delight today's visitors as they did their former royal residents. We shall visit the Hawa Mahal or Palace of the Winds, a five-storied structure of pink sandstone with semi-octagonal and delicately honeycombed windows overlooking the main street of the old city. It was built in 1799 so that veiled royal women could peer down unseen by the world through its 593 stone screens. Following lunch, a tour Of City Palace & Observatory. The City Palace in the heart of the old city is a blend of Rajasthani and Mughal architecture. The centre of the palace is a seven storied building called Chandra Palace, with fine vies over the gardens and the city. The palace lies in the heart of the city and occupies the whole central grid. The fortified wall has seven gates and was built for protection from invading armies and animals that lived in jungles which surrounded the wall that time. Next, we visit the Solar Observatory - an astronomical treasure house, with solar device that give accurate predictions till date. The Palace Of Winds, a five-storied structure of pink sandstone has semi-octagonal and delicately honeycombed windows overlooking the main street of the old city.
Overnight Hotel Jai Mahal Palace ( B )Day 5 : Jaipur / Ranthambore National Park
This morning you head west to Ranthambore Park. Easily accessible, this popular park is one of India's best places for viewing tigers and their prey. Upon arrival , check in to Hotel . Afternoon Jungle Excursion in Exclusive Jeeps.
Overnight Hotel - Taj Lodge (B,L,D) Day 6 : Ranthambore
Morning and evening jungle excursions in jeeps. Ranthambore is known to have India's Friendliest tigers Assured of protection , these nocturnal creatures are seen often in the day .Sprawled on the Aravalli and Vindhya ranges of Rajasthan , Ranthambore National Park encompasses an area of 410 sQ km in which live a healthy population of about 40 tigers. A large number of deer inhabit the area and leopards are occasionally sighted . The Pandam Taloa lake , located adjacent to the jogi Mahal hunting lodge , is the park's favorite water source . Smaller pools at Raj Bagh and Milak also attract a variety of wild life The best way to explore Ranthambore is in a jeep as the park is well connected by arterial roads and tracks . Some of the popular sighting areas are Nal Ghati , Lahpur , ,Bakuala , Anantpur and the Kachida valley . Mammals: Tiger , Panther , Hyena , Jackal , Jungle Cat , Caracal , Sloth Bear , Sambar , Chital , Nilgai , Wild Boar ,Chinkara, Indian hare mongoose . Birds : Bonelli's eagle , crested serpent eagle , great Indian horned owl , grey partridge sandgrouse ,quail ,spurfowl , common peafowl , tree pie , paradise flycatcher , pheasant tailed jacana , painted stork , black stork , spoonbill , green pigeon ,ducks.
Overnight Hotel - Taj Lodge (B,L,D)
Day 7 : Ranthambore / Bharatpur
Morning jungle excursions in jeeps. Following breakfast, we drive to Bharatpur. Upon arrival, check in to Laxmi Vilas Palace , the former home of the Maharaja of Bharatpur . Set amidst 40 acres of picturesquely landscaped environs, the palace was built in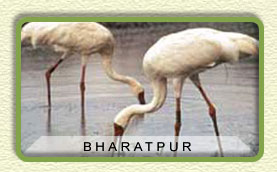 1899 as residence for the Royal ladies. A lively fusion of traditional Rajasthani architecture and the prevalent Mughal style, this place with its regal ambience, sunny courtyards, and enchanting cupolas will mesmerise you. Afternoon , we proceed for a guided tour of the World famous Bharatpur bird Sanctuary . The reserve boasts of over 300 species of resident and migratory birds.
Overnight: Laxmi Vilas Palace. (B )Day 8 : Bharatpur / Fatehpur Sikri / Agra
Following breakfast we drive to Fatehpur Sikri for a guided tour. This abandoned capital of the Mughals is a perfectly preserved city at the height of the empire's splendour. The city divided into religious and secular parts has interesting well sculpted buildings. From here we continue riding to Agra. Upon arrival, check in to our Hotel.
Overnight Hotel AmarVilas ( B )
Day 9 : Agra / Umaria ( Overnight Train Journey )
We are about to witness one of the greatest sights of one's lifetime - the Taj Mahal at sunrise. Before departure for the monument we shall be served tea/coffee and cookies so that our eyes open real wide to behold this breathtaking sight. A dawn visit to the fabled Taj Mahal to witness the magical effects caused by the reflections of the changing colours of the rising Sun on this brilliant white marble building. We return to our hotel for breakfast, following which we ride to the massive Agra Fort. The elegant buildings inside reflect an interesting synthesis of Hindu and Central Asian architectural styles. Built by Emperor Akbar, the maze of the courtyards, mosques & private chambers of the fort echo the story of the Mughal Empire. The Moti Masjid & other magnificent buildings reflect the skill of the ancient Indian architects.
Overnight AC Sleeper Class Accommodation .( B )Day 10 : Arrival / Umaria / Bandhavgarh National Park
Meeting and assistance upon arrival at Omaria Train station and drive to Bandhavgarh . a small wildlife sanctuary located in rocky hills rising from swamps and thick forest. The park has the highest density of tigers of any of India's reserves, who prey on the abundant herbivores including various deer such as the shaggy sambar, spotted chital, and muntjac; antelopes like nilgai, chinkara, and the 4-horned chowsingha; and massive gaur and wild boar. Arrive at your riverside resort and check into your thatch-roofed bungalow decorated in local ethnic motifs. Late afternoon, enter the park to search for wildlife by open jeep, followed by an evening naturalist presentation, barbecue dinner and tribal dances back at your resort.
Overnight Tiger Trails Resort - (B,L,D)
Day 11 : Bandhavgarh National Park
You have two full days to explore the riches of Bandhavgarh Park. Guided by expert naturalists, explore the jungle in jeeps, on a leisurely elephant riding safari, or even on a boat safari or fishing outing. Search for tigers, leopards, and caracal cats and their prey in the splendid isolation of the park's open plains, sar and bamboo forests, and rugged hills, including a striking outcrop topped by a fort some 2000 years old.
Overnight Tiger Trails Resort - (B,L,D)
Day 12 : Bandhavgarh / Khajuraho
Set out in the misty morning for a final safari in Bandhavgarh. Then enjoy breakfast before departing on a six-hour overland journey to Khajuraho. This sleepy village was founded in a golden age of Hindu civilization, a pre-Moslem period of riches, when pleasure flourished and sexual _expression coincided with religious and philosophical values. Nowhere in India will you find artistic sculptural tributes paying greater homage to the lives of ancient people, as at the Khajuraho's famous erotic temples, built 1000 years ago. Enjoy a restful evening in this pleasant rural Indian setting, in preparation for a tour of this unique sight tomorrow.
Overnight Taj Chandela Hotel - (B)
Day 13 : Khajuraho / Varanasi [ 9W 334 1330 / 1410 ]
Morning, proceed on a guided tour of the city. The fascinating temples of Khajuraho, India's unique gift of love to the world, were built between 950 and 1050 A.D. Khajuraho derives its name from the Khajur tree (the date palm tree) which can be found in abundance in the area. The divine sculptures in these temples, are a tribute to Life itself, embodying everything that is sublime and spontaneous about it. The murals depict the life and times of the Chandelas, and celebrate the erotic state of being. They not only testify to the mastery of the craftsman, but also to the extraordinary breadth of vision of the Chandela Rajputs under whose reign, these temples were constructed Afternoon, transfer to the airport for flight to Varanasi . Meeting and assistance upon arrival and transfer to Hotel . This place is a mecca for Hindus. Varanasi offers you the opportunity to witness the ritualistic aspect of the average Hindu's life. The boat ride at sunrise on the Mother Ganges River is soul stirring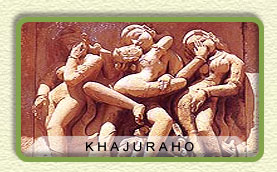 as you witness the performance of various rituals, laundry & cremations in the background of the rising Sun. We also have ab opportunity to walk the narrow streets which are preserved as they were 100s of years back in time. Following your visit, you would realise why Varanasi is described as the 'eternal city !' This evening take a short trip to the Buddhist city of Sarnath to visit the site where Buddha gave his first sermon after attaining enlightenment, and participate if you wish in a service of chanted prayers and traditional temple music.
Overnight Hotel Taj Ganges ( B )Day 14 : Varanasi / Delhi [ 9W 334 1430 / 1555 ]
Awaken before sunrise, the time of spiritual cleansing when pilgrims gather on the ghats of the Holy River Ganges, the geographic center of their faith. You will experience this moving daily ritual up close from a boat ride on the river past poignant scenes of Hindus meditating, immersing themselves in the water, and performing other rituals. After the boat ride, take a walk through the fascinating city lanes crammed with cows, shopkeepers, and people from all over India. You will also visit Banarus Hindu University and a selection of colorful temples. Afternoon transfer to the airport for flight to Delhi . Meeting and assistance upon arrival and transfer to Hotel.
Overnight Hotel Taj Palace ( B )
Day 15 : Delhi / Departure
Early morning transfer to the airport for your flight back home .