Sariska Tiger Reserve lies in the Alwar district of the Indian state of Rajasthan. It is a prime a tiger country. The forest is typical dry deciduous, dramatically changing with the change in season. The terrain is undulating - plateaus and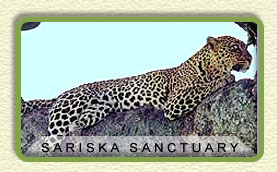 wide valleys. Besides tiger, herbivores like spotted deer, sambar and blu bull are commonly seen and found in a good density at Sariska. Sariska National Park is known for its tigers, its most popular resident, According to the latest available data, there are about 15 tigers at Sariska. Rajasthan is a pristine platform for viewing wildlife in the country because of its two national parks and over a dozen sanctuaries.
At last count in 1985, there 35 tigers were reported. Other carnivores of the area are the panther, jungle cat, jackal and hyena. Three caracals were also reported during the last census in 1985. Other animals include the sambar, chital, wild boar, hare, nilgai and umpteen porcupines. The bird-life comprises of the pea fowl, gray partridge, quail, sand grouse, tree pie, white breasted kingfisher, golden - backed woodpecker, crested serpent eagle and great Indian horned owl. Magnificent ruins peppered around the neighborhood of Sariska add to the region's fascination. The Neelkanth (Shiva) temples (6th-13th century AD) are just 32 kms from the Park and the ancient Kankwari Fort inside the Reserve, is where Emperor Aurangzeb once held his brother Dara Shikoh captive. A beautiful palace complex built in 1902 has been converted into a hotel.
Fauna
Attractions The landscape of Sariska comprises of hills and narrow valleys of the Aravali hill range. The topography of Sariska supports scrub-thorn arid forests, dry deciduous forests, rocks and grasses. The broad range of wildlife here is a wonderful example of ecological adoption and tolerance, for the climate here is variable as well as erratic, especially in terms of rainfall, which is desperately needed to replenish the region.
Sariska Wildlife Safari
The best way to visit the Sariska Wildlife Sanctuary is by Jeep and these can be arranged at the Forest Reception Office on the Jaipur Road. Booking an inconspicuous 'hide', overlooking one of the waterholes, can provide an excellent opportunity for wildlife viewing and wildlife photography.
How to Reach Sariska
Air
Jaipur is the nearest airport from Sariska at a distance 107-kms.
Rail
The nearest railway station is at Alwar (37-kms).
Road
Sariska wildlife sanctuary is situated off the Delhi-Alwar-Jaipur Road. Jaipur is located at a distance of 107-kms and Delhi at 200-kms from Sariska. Sariska is well connected with Alwar, which is further directly connected with bus services from Delhi and Jaipur