Built by Raja Vir Singh Judeo in 1613, the Jhansi Fort played a major role during the first war of Indian Independence. The huge fort is built on a hilltop called Bangra. The Fort is an architectural delight to eyes, due to its size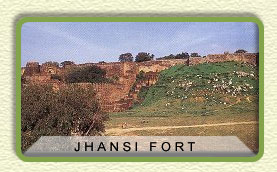 and beauty. The fort was a residence of Rani Laxmibai of Jhansi, who fought British army and attained martyrdom.
During the rule of the Peshwas, the Jhansi fort was the capital of the area. The fort was made at the strategical location, to be in the centre of the state. Among places of interest within the main fort area are the Karak Bijli Toup ( Tank ), Rani Jhansi Garden, Shiv temple and a "Mazar" of Ghulam Gaus Khan, Moti Bai and Khuda Baksh.
The Jhansi fort, a living testimony of ancient glamor and valour, also has a fine collection of sculptures which provide an excellent inside into the eventful history of Bundelkhand