Perched atop a rocky ridge 37 km west of Agra, Fatehpur Sikri came into being four centuries ago when the Emperor Akbar, not yet 28 years old, created the first planned city in Indo-Islamic style. The city was actualised with great energy, but was completely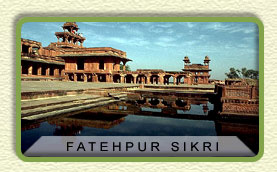 abandoned a little more than a decade later. In 1568, Akbar was secure and powerful but he had no son and heir. His search for blessing for the birth of a successor brought him to the Sufi mystic Shaikh Salim Chisti, who lived in Sikri village. The saint prophesied the birth of three sons and soon after was born Prince Salim, later to become Emperor Jahangir. In gratitude for the blessing Akbar decided to create imperial residences in Sikri, which would function as a joint capital with Agra. As a mark of his faith and his recent victories, he named his new city Fatehpur Sikri. Akbar was a keen builder and the plan of Fatehpur Sikri reveals an architectural mastermind at work. Research has proved that it was planned on a definite mathematical grid.
Narrow galleries link this to the corners of the room where it is believed his ministers sat The airy panch mahal a 5 storied structure rising in pyramidal fashion was probably used by the ladies of the court. Set like a jewel in a courtyard of pink sandstone is the finest building here, the marble tomb of Salim Chisti enclosed by finely carved, lacy marble screens. The Buland Darwaza, an imposing gateway 54 m high was built to commemorate Akbar's Aligarh the famous university town is a center of Islamic studies. The city is also noted for its handicrafts and metal ware.
Fatehpur Sikri is built in red sandstone, and is a beautiful blend of Hindu and Islamic architectural elements. The sandstone is richly ornamented with carving and fretwork. Fatehpur Sikri was abandoned 14 years after its creation. A shortage of water is believed to be the reason. Today it is a ghost city, its architecture is in a perfect state of preservation, and wandering through the palaces it is easy to imagine that this was once a royal residence and a dynamic cultural centre.