Char Dham is a term coined for the four most revered Hindu temples viz' Yamunotri, Gangotri, Kedarnath and Badrinath. According to the Puranas and various Hindu scriptures the Char Dham Yatra is of very high religious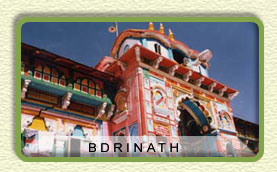 significance. Pilgrims from all around the world brave the severe conditions of landscape and weather to visit the shrines and have the holy darshan of the revered diety.
Badrinath : Abode of Lord Vishnu
Cradled in the twin Mountain The Badrinath Temple ranges of Nar and Narayan is the holiest of the four main shrines-- Badrinath along the left bank of River Alaknanda with the towering Neelkantha Peak as the splendid backdrop. Once the spot was carpeted with 'badris' or wild berries and hence was famous as Badri van Legend has it, when the Ganga was requested to descend to earth to help suffering humanity, the earth was unable to withstand the force of its descent. Therefore the might Ganga was split into 12 holy channels. Alaknanda was one of them that later became the abode of Lord Vishnu or Badrinath.
Kedarnath
Reputed as one of the 12 Jyotirlings of Lord Shiva, Kedarnath is the most sacrosanct pilgrim spot located in the Uttaranchal Region. According to mythology the deity of Kedarnath Temple is identified with the hump of a bull, a form assumed by Lord Shiva, when eluding the Pandavas, who had come for repentance for killing their kith & kin, in the Kurushetra battle when the Pandavas followed him to the site. He dived into the ground leaving behind him a hump on the surface. This conical projection is worshipped as the idol in the temple. The remaining parts of the body are worshipped at four other sites - the arms (Bahu) at Tungnath, mouth (Much) at Rudranath, navel (Nabhi) at Madmaheshwar and hair (Jata) at Kalpeshwar. These five shrines collectively are known as the Panch Kedar.
Gangotri
The shrine of Gangotri is situated at an elevation of 3200 m amidst charming surroundings of deodars and pines. The original temple was constructed by the Gorkha General Amar Singh Thapa. Every year people from all around the world visit this shrine. A number of ashrams and dharamshalas are located on the other side. It is believed that Raja Bhagirath used to worship Shiva on a slab of rock "Bhagirath Shila" situated near the temple. Submerged in the river there is a natural rock shivling where according to mythology Lord Shiva sat when he received the Goddess Ganga in his matted locks.
Yamunotri
The shrine of Yamunotri, at a height of 3,235 m, is dedicated to the river Goddess Yamuna. The temple of Goddess Yamuna is the main pilgrim site and there are many thermal springs in the vicinity. Also present is a divya shila, a rock pillar that is worshipped before entering the Yamunotri temple.