Rishikesh is located at a height of about 1360 feet above sea level. Tapovan on the other bank of the Ganges houses a temple to Lakshmana and Bharata, both of whom are believed to have meditated here. 12 km away from Rishikesh is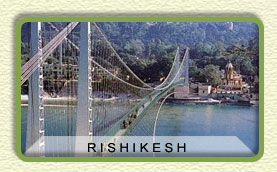 located the Nilkanth Mahadeo temple at a height of about 5000 feet, commanding spectacular views of the region. Located in the laps of lower Himalayas, this place is considered to be the access point of three other pilgrim places of Badrinath - Kedarnath, Gangotri and Yamunotri the four great places which combine to make Chardham. The holy city of Haridwar is located 24kms from here.
Rishikesh is popular with the foreigners. The various Yoga asanas taught on the banks of the river Ganges draw them to this place. Many yoga centers are found here. A person visiting Haridwar invariably visits Rishikesh. Since the distance is not too much, one can take a bus, train, taxi or even a three-wheeler.
The places to visit in Rishikesh include - Bharat Temple, Rishi Kund & Raghunath Temple, Laxman Jhoola, Pushkar Temple, Shatrughan Temple, Muni-Ki-Reti, Swarg Ashram, Gita Bhawan, Parmath Niketan, Lakshman Temple, Sadanand Jhoola, Triveni Ghat, Shivanand Ashram, Kailash Ashram and Academy of Meditation. The nearby excursions include beautiful places like: Dehradun, Mussoorie, Hardwar, Chilla, Devprayag, Auli, and NarendraNagar.
Lakshman Jhula
This is a bridge made out of steel wires made in 1939, over the river Ganges. This bridge swings from side to side. This bridge is 150 meters above sea level. Once you cross this bridge, you reach Swarg Ashram.
Ram Jhula
Near Swarg Ashram this is another swinging bridge which was made a few years back. This is also called Shivanand Jhula.
Dev Prayag
Situated on the Rishikesh -Badrinath road, this mountainous spot is the place where the rivers Alaknanda and Bhagirathi meet. When they flow out of here, they are together called the Ganga. An old temple of Ram here is well known.
Swarg Ashram
This place is full of Ashrams and temples. The spiritual atmosphere here calms many souls. Plenty of stores and restaurants are found around here.
How to reach
Air
The nearest airport is Dehradun, 35 kms from Haridwar.
Rail
Rishikesh is connected by rail via Haridwar (24 kms), to Howrah, Bombay, Delhi, Lucknow, Varanasi, Dehradun and other cities.
Road
By road Rishikesh to Haridwar 24 kms, Dehradun 47 kms, Mussoorie 77 kms, Badrinath 301 kms (Son Prayag), Kedarnath 228 kms, Gangotri 258 kms, Yamunotri 288 kms (Hanuman Chatti), Srinagar 105 kms and Joshimath 252 kms.