Darjeeling, a hill station and district of British India, in the Bhagalpur division of Bengal. The sanatorium is situated 367 m. by rail north of Calcutta. In 1901 it had a population of 16,924. It is the summer quarters of the Bengal government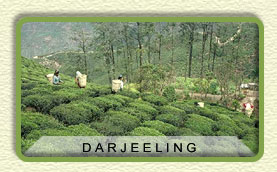 and has a most agreeable climate, which neither exceeds 80 F. in summer, nor falls below 30 in winter. The great attraction of Darjeeling is its scenery, which is unspeakably grand. The view across the hills to Kinchinjunga discloses a glittering white wall of perpetual snow, surrounded by towering masses of granite. There are several schools of considerable size for European boys and girls, and a government boarding school at Kurseong. The buildings and the roads suffered severely from the earthquake of the 12th of June 1897. But a more terrible disaster occurred in October 1899, when a series of landslips carried away houses and broke up the hill railway.
The British connection with Darjeeling dates from 1816, when, at the close of the war with Nepal, the British made over to the Sikkim raja the tarai tract, which had been wrested from him and annexed by Nepal. In 1835 the nucleus of the present district of British Sikkim or Darjeeling was created by a cession of a portion of the hills by the raja of Sikkim to the British as a sanatorium.
When to Visit
For mountain views the best time to visit is from mid September to mid, and then from mid March to mid June, when it starts becoming hazy, because of cloud cover. The average temperature ranges from 8.5 - 15 degrees Celsius in summers and 1.5-6 degrees Celsius in winters.
How to reach
Air
The nearest airport is at Bagdogra, 90 km away from Darjeeling. Bagdogra is connected to important cities of the country by domestic airlines.
Bus
There are bus connections to Darjeeling from Siliguri, Bagdogra, Gangtok, Kurseong and Kathmandu.
Train
New Jalpaiguri /Siliguri is the rail head for all trains, except the toy train running to Darjeeling. Siliguri is connected to Calcutta and other parts of the country by train.