The shrine of Gangotri is situated at an elevation of 3048 m amidst captivating surroundings. Gangotri is located at a distance of 99 km from Uttarkashi. The temple, constructed by the Gorkha General Amar Singh Thapa, in the 18th century,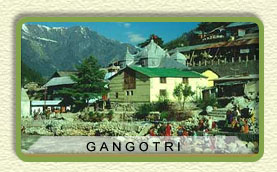 is situated on the left bank of Bhagirathi. It is visited by lakhs of pilgrims every year. A number of ashrams are located on the other side, some of which provide accommodation facilities to the visitors.
Legend has it that the Ganga came down to earth after prolonged penance by King Bhagirath to Lord Shiva. However, since the earth would be devastated if the Ganga came down in her full force and pride, Lord Shiva caught her in his locks. It was proclaimed that Shiva's consort Parvati would bathe in the Ganga daily.
Ganga has remained in the Indian psyche as the ultimate source of attaining nirvana and every important place along the Ganga has become major pilgrimage centres for millions of Hindus. Gangotri is the place where the Ganga is believed to have descended on earth.
Sightseeing
Temple of Gangotri
As the legend goes, Raja Bhagirath used to worship Lord Shiva at the sacred stone near which the temple is located. It is believed that Goddess Ganga first descended to earth from heaven, at this stone. Amar Singh Thapa, the Gorkha Commander of Garhwal, in the 18th century AD constructed this temple. It is also believed that the Pandavas came here to perform the great " Deva Yagna" to atone the death of their kinsmen in the battle of Mahabharat.
Submerged Shivling
Submerged in the river, this natural rock shivling is the place where, according to mythology, Lord Shiva sat when he received the Ganga in his matted locks. It is visible in winter months when water level decreases.
How to reach
Air
Nearest airport is Jolly Grant, Dehradun, 17 km from Rishikesh and 265 km from Gangotri.
Rail
Nearest railhead is at Rishikesh, 248 km away.
Road
Gangotri is connected by road with Rishikesh, at 265 km away. Garhwal Mandal Vikas Nigam organises different package tours through 2X2 dlx / coach and other cab tours, other bus services are available - Samyukt Rotation Yatayat Vyawastha Samiti connect Gangotri with many centres in the region like Haridwar, Rishikesh, Tehri, Uttarkashi etc..