About 2,653 meters high, Gulmarg or the `Meadow of Flowers' is a lovely green spot where a profusion of flora changes colours with the changing seasons. Gulmarg offers the world's highest golf course, green and rolling smooth. Come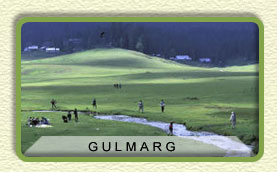 winter and the town opens up to winter-sports enthusiasts. Gulmarg is known for unparalled beauty nad is rated as one of the matchless tourist spots of the world.It is famous for Golf hikes and boasts of a beautiful highland golf course. It is premier resort for winter sports in the country.The meadow of Flowers is a world famous tourist spot in the Baramulla Distt of Kashmir. The altitude of Gulmarg is 2730 meters.
Gulamrg is the perfect skiing destination for many adventure seekers. One can hire all the equipment needed, such as skis and sticks, snow boots, mufflers, woolen socks, jackets, goggles, etc here. One can take skiing lessons from ski instructors too. The time to enjoy skiing in Gulmarg is between November to February. The slopes in Gulmarg vary from 8,700 ft to 10,500 ft. One remarkable fact about Gulmarg is that it is the only heli-skiing resort in Asia. Though not exactly an adventure sport, Golf is enjoyed as a relaxing activity by many. Gulmarg has the world's highest golf course. Visitors can enjoy golf by obtaining a short-term membership at the Golf Club. Gulmarg is also the place for enjoying long walks. One can walk through woods, and green hills. You can also check out Nanga Parbat and Haramukh.
An equally popular destination in winter, it is coated with a blanket of thick, soft snow, turning its gentle slopes into some of the finest ski slopes. Surrounded by crests of white, the air seems to sparkle against the ice as skiers flash past in the hush of the snow. The resort has one T-Bar Lift, three modern ski lifts and a chair lift. The beginner's slope makes learning easy, with perfect snow conditions and a gentle gradient. Trained instructors are available and equipment can be hired. Skating, curling, and ski bobbing are some of the activities offered. A cable car, takes tourists up to Kongdori.
Gulmarg boasts of a number of Hotels of various standards which offer good accomodation and meals. Hotels of International standards are also available. JKTDC has huts on the offer at Gulmarg and all these properties require advance booking from Srinagar when the season is on. Assistance for booking accomodation can be had from the booking manager at Tourist reception centre Srinagar. The accomodation available there suits all budgets.
Gulmarg is in Baramula Distt and is 57Kms from Srinagar District .The nearest Airport in Badgam Distt.This Airport is connected with major cities of country. The nearest Rail Head is at Jammu . The journey from Srinagar to Gulmarg takes approx. 2 hours in bus and may take short time by chartered conveyance. The road to gulmarg is very beautiful and is lined with poplar trees all through. All sorts of transport is available to Gulmarg from Srinagar bus stand at Batmallo and from various tour and travel opeartors at the prices fixed.
Sightseeing
Khilanmarg
A 40-minute journey through valleys of wild flowers from Gulmarg to Khilanmarg offers a breathtaking view of the majestic peaks with their reflections in Wular and other lakes.
Baba Reshi
Surrounded by a courtyard of carved deodar, the shrine of the saint, Baba Reshi, is linked to Tangmarg and Gulmarg by a motorable road. The latticework shutters here provide a glimpse of old architecture.
Alpather Lake
Streaks of floating ice in this triangular lake, nestled in a hollow under the shadow of Apharwat mountain are a visual delight. A well-graded pony track joins Apharwat Ridge with Gulmarg.
Outer Circular Walk
The road encircles Gulmarg and provides scenic views of the massifs of Nanga Parbat, Harmukh, the rugged slopes of Ferozepur, Sunset Peak and Apharwat Ridge.
How to reach
Air
The nearest airport to Gulmarg is in Badgam district.
Rail
The Jammu railway station is the closest in the vicinity.
Road
Gulmarg is a two-hour bus journey from Srinagar. Various modes of transport including chartered conveyance are available from Srinagar bus stand at Batmallo. The journey from Tangmarg can also be undertaken on ponies.