Shimla is one of India's most spectacular hill stations, and called the Queen of Hills. Shimla is situated at 2,130 meters above sea level. In 1819, the British made it their camp due to its perfect weather. Shimla is named after its local Goddess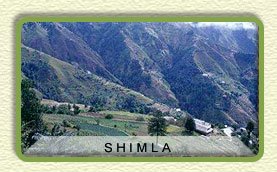 Shyamala. Its green valleys, the beauty of its trees, pine, oak and deodar and its beautiful weather in summer attract the tourists throughout the year. Although Shimla is beautiful all through the year, during winter due to landslides and snow, the roads get blocked and travelling becomes tedious. Hence the best time is from April to October. Light woollens in summer, and heavy woollens in winter would be the ideal clothing.
Linked by air to Delhi, Chandigarh, Kangra and Kullu. The airport at Jubbarhati is 23 Km/14 mile from Shimla. Shimla is linked by a narrow gauge line to Kalka which is connected to Delhi, Calcutta and Amritsar by broad gauge. Kalka-Shimla is 96 Km/ 60 mile and 6 hours by train but only 4 hours by a quaint rail car. Shimla is well connected by road to most towns within the state and to all major towns in Punjab and Haryana. It is linked by bus and coach to Delhi and Chandigarh as well.
Shopping
There is an enormous range of goods that Shimla has to offer. This includes handicrafts, wood and metalwork, shawls, pullovers, local tweeds, caps, Tibetan carpets and pickles, jams and squashes.
Sightseeing
Kufri
16km from Shimla, beautiful Kufri is also called the "Chinese Bungalow". Many games are organised here from February to March. In winter one can ski on its snow-covered slopes and in the summer have a ride on the back of the Yak. Kufri is well known for its natural scenic beauty.
The Mall
All visitors to Shimla inevitably walk down the Mall, the main promenade that runs along the top of the ridge - a busy shopping area with old colonial buildings , souvenir shops and restaurants. At the top end of the Mall is Scandal Point, a large open square with a view of the town - a favorite rendezvous for visitors and the local people. Overlooking it is the elegant Christ Church with its fine stained glass windows. The laby-rinth of Shimla's bazaars spill over the edge of the Mall.
Himachal State Museum
Very close to the Institute, in a colonial building set in spacious lawns, is the museum. It has collections of Pahari miniatures, stone sculpture, local handicrafts, textiles and embroidery.
Chail
Another scenic spot where the river Asani flows. This adds to its beauty. The world's highest cricket field is situated here. A story goes that due to some differences, the British had forbidden the Maharaja of Patiala from going to Shimla. Therefore, he laid the foundation for the town of Chail and since he loved the game of cricket, a field was specially laid. Chail is about 45 kms from Shimla.
Nalderao
22 kms from Shimla, it has the oldest golf course in India. The pine and deodar add to its beauty.
Gaiety Theatre
This theatre is one of the oldest theatres in the world. It is on the Mall Road. Famous plays are often staged here.
Chadwick Falls
Just beyond Summer Hill is the 67 m waterfall, cascading into a deep gorge. The Falls are best seen after the monsoon. ( 7 Km/4 mile)
Prospect Hill
A 15 minute climb from Boileauganj, Prospect Hill is another favorite walk and vantage point with breath-taking views. There is little temple to Kamna Devi on the top of the hill ( 5 Km/3 mile)
Sanjauli
A serene location with delightful walks, Sanjauli is ideal for a tranquil weekend. There are fine vistas and the lights of Shimla and Chail can be seen twinkling at night. On the other side, Mashobra and Naldehra are visible.
How to reach
Railways
You can reach Simla via Kalka. Kalka is 95 km from Shimla. The 6 hour journey from Kalka by a mini train would take you through 103 small tunnels and give a scenic view. It is advisable to reserve seats in advance. Kalka is linked with many other Indian cities.
Road
Shimla is connected to Chandigarh, Delhi, Amritsar, Kalka and other cities of Haryana and Punjab by road. The state transport operates regular services.