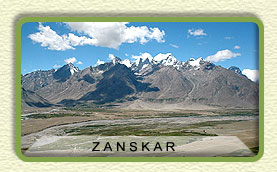 Zanskar covers an area of some 7,000 square kilometres (2,700 square miles), at a height of between 3,500 and 7,000 metres (11,500–23,000 feet). It consists of the country lying along the two main branches of the Zanskar river.
To the south-west is the Great Himalayan Range which separates Zanskar from the Kisthwar and Chamba basins. To the north-east lies the Zanskar Range, which separates Zanskar from Ladakh. The only outlet for the whole Zanskar hydrographic system is thus the Zanskar river, which cuts a deep and narrow gorge through the Zanskar range.
Zanskar is extremely difficult to reach for tourists between November and May, because of the coldness and the heavy snowfall. Only very well-prepared visitors should try to attempt this, and then only with a knowledgeable Zanskari guide. However, one can visit all of Zanskar between June and October. Trekking is the best method to gain full access to Zanskar, although one may hire a jeep or take a bus to drive from Kargil to Padum over the Pensi-La mountain pass.
Tourism is probably the major disruption that Zanskar has experienced during recent times. The opening of this region to foreigners has brought benefits such as the financing of schools and the restoration of monasteries and roads, but has also taken its toll on this fragile mountain environment and its population. Not only do the campsites along the trekking routes look more and more like junkyards at the end of the tourist season, but the local population has sometimes developed a questionable attitude towards visitors, involving begging, and very occasionally stealing.
Zanskar is a high altitude semi-desert lying on the Northern flank of the Great Himalayan Range. This mountain range acts as a climatic barrier protecting Ladakh and Zanskar from most of the monsoon, resulting in a pleasantly warm and dry climate in the summer. Rain and snowfall during this period are scarce, although recent decades have shown a trend towards increasing precipitation. Several water-driven mills were built during ancient periods of drought at a great distance from the villages, but have been abandoned because running water is now available nearer to the settlements. Zanskari houses, though otherwise well built, are not adapted to the recently increasing rainfall, as their roofs leak, catching their surprised inhabitants unprepared. Most of the precipitation occurs as snowfall during the harsh and extremely long winter period. These winter snowfalls are of vital importance, since they feed the glaciers which melt in the summer and provide most of the irrigation water.