The Amarnath Yatra is organised every year by the J &K Govt. during the month of Shravan ( July and August); the dates however, vary every year looking at the weather conditions and according to Purnima (Raksha Bandhan) in the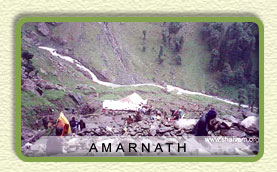 month of Sharavan (Vikrama Samwat). Yatra to Baba Amarnath Holy Cave for which one has to trek a height of about 14,500 ft is full of thrill and joy.
Legends of Amarnath
According to one tale, a Muslim shepherd, Buta Malik, was given a sack of coal by a Sadhu. When he reached home, the sack contained gold. He rushed to thank the Sadhu, and discovered a cave at their meeting place. This later become a place of pilgrimage. Till date, the descendants of Buta Malik are given a percentage of donations - the rest goes to the trust managing the shrine. According to another legend, it was in the caves of Amarnath that Lord Shiva (the destroyer in the Holy Trinity) narrated to Parvati, his consort, the secret of immortality and creation. Unknown to them, a pair of doves eavesdropped. Having learnt the secrets, they are reborn again and again, and have made this cave their eternal abode. Yet another legend avers that when Rishi Kashyap drained Kashmir Valley, then a vast lake, of water, the cave was found.
There is famous Rigvedic Verse that says "Ekam Sat " that is "There is one Being, the sages call Him by many names." The God (Parmeshwar) has three deities who carry on the world .This is Known as Holy Trinity. Brahma- the creator, Vishnu - the perpetuator of life and Shiva (Mahesh ) -the purifier and perpetuator of good and destroyer of evil. Rig Veda refer Shiva as Rudra as in its following verse . "We Worship Tryambaka (Rudra), Who spread Fragrance and Increases Nourishment, May He release me, like the cucumber from its stem , From Mortal Life, But not From Immorality. "(Rig Veda Mandal VII Sukta 59 and Mantra 12) The Yajurveda describes Shiva as ascetic warrior Whose robe is of Deer Skin and He carries Trishul . According to the verse Satyam, Shivam ,Sundaram ,the life is described as having three facets Truth (Satyam), Good (Shivam) and the Beautiful (Sundaram). Shiva is a living God. The most Sacred and ancient books of India, the Rig Veda narrates His presence in the hymns. Vedic myths, rituals and even astronomy testifies to His existence from the dawn of time .The Mohindaro and Harapa findings confirm Shiva worship in the ancient India. According to the older scriptures, He has three places of His residence. One is Kailash Parvat another is Lohit Giri under which Brahamputra flows and third is Muzwan Parvat.
What makes Amarnath special
Every year, in the month of July and August, an image of Lord Shiva, in the form of a lingam, is formed naturally as an ice stalagmite which waxes and wanes with the Moon's cycle. First a solid base is formed and then the lingam begins to rise on it. On Purnima it slowly acquires full form. According to the legends it is on that day, that Lord Shiva revealed the secrets of life to Parvati, the beautiful daughter of the Himalayas. By the side of the lingam, are two more ice stalagmites, representing Parvati and their son, Ganesha.
Climate
The climatic conditions are very uncertain . Rain or snowfall may take place at any time or place during the Yatra . It is to be particularly noted that abrupt changes in temperature might occur . Sunny weather may turn into rain / snow fall in a short time . The temperature may fall up to -5 degree C.
How To Reach Amarnath
Air
Indian Airlines had daily flights to Delhi and Srinagar. There are also flights to Bombay, Calcutta, Chandigarh, and Leh. The Indian Airlines office(542-735) is at the Tourist Reception Centre on Vir Marg.
Train
The Shalimar Express departs from Delhi at 4.10 pm and arrives in Jammu at 7 am. There are other trains to and from Delhi. From Jammu there are direct trains to Bombay, Calcutta (Jammu Tawi Exp # 3152, daily, 6.15 pm, 46 ½ hr). Most buses leave between 6 and 7 am, in order to arrive before night. A ticket to Srinagar should be booked in advance. There are buses to Delhi (14 hr), Amritsar (5hr), and Pathankot (3 hr). From Pathankot you can get a bus to Dharamshala and Dalhousie. Deluxe buses depart from the railway station, usually between 6 and 7 am.